Alzheimer's Society
$2 of each JETELOVE t-shirt will be donated to the Alzheimers Society which holds an extremely special place in my heart. My late father Edward who had dementia and my mother in law Lucia who suffers from Alzheimers have spent their entire lives showering their family with an abundance of love. Those suffering from these diseases may not be the same people they once were, but let me assure you, they still feel the love.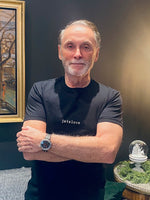 Montrealer of the Month
Each month, JETELOVE will feature a Montrealer who has made an impact.
March  | Barry F. Lorenzetti
Knight of the Order of Montreal, entrepreneur, visionary, corporate leader, and philanthropist.  He is the founder of BFL Canada, the largest independent insurance brokerage firm in the country with a very unique business model, operating in 25 cities across Canada.
READ MORE