Alzheimer's Society
$2 of each JETELOVE t-shirt will be donated to the Alzheimers Society which holds an extremely special place in my heart. My late father Edward who had dementia and my mother in law Lucia who suffers from Alzheimers have spent their entire lives showering their family with an abundance of love. Those suffering from these diseases may not be the same people they once were, but let me assure you, they still feel the love.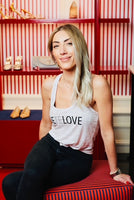 Montrealer of the Month
Each month, JETELOVE will feature a Montrealer who has made an impact.
June  | Katia Piccolino
This undeniable witty fire-cracker started  her career off working in show business at the age of 17.She interned for the famed Donald K Donald concert promoting firm & quickly climbed the ladder becoming Director of Promotions for Gillette Entertainment Group, known as today's Evenko...
READ MORE